Product Overview
FSS-NAV618DPRO is a multi-sensor integrated navigation product based on industrial IMU platform and full system multi-frequency dual antenna RTK.NAV618DPRO has a unique array IMU sensor built into the Forsense Company, which supports external odometer information to provide accurate, continuous and real-time posture and velocity location information in urban canyons, tunnel elevations and other scenarios. Provides records of RTK original observations combined with IMU sampling mechanism of space-time synchronization, which facilitates high-precision post-processing for users. Convenient and diverse ways to import differential data, supporting differential data from mobile phone Hotspots or external 4G modules.
Product Features
(1)Built in system wide multi frequency point high-precision RTK board. Support BDS B1 / B2 + gpsl1 / L2 + GLONASS L1 / L2 + Galileo E1 / e5b.
(2)The built-in array IMU sensor provides real-time and accurate attitude, speed and position information through perfect integrated navigation algorithm and space-time synchronization mechanism.
(3)Supports 4G/WIFI wireless configuration, import the differential data and download the log.
(4)Supports the recording of RTK raw observations and calendars for post-processing and compatibility with IE post-processing software.
(5)Supports external milemeters.
1、Performance Index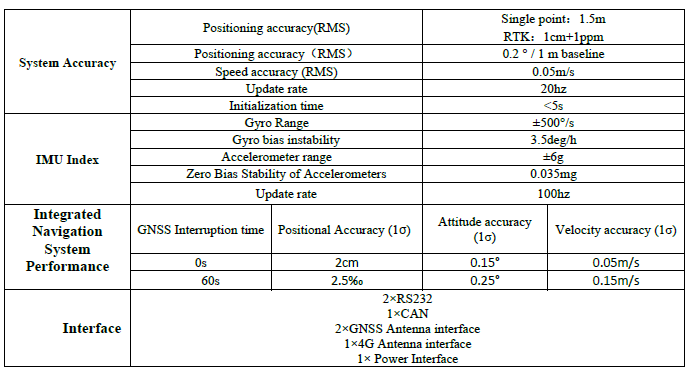 2、Electrical Characteristic